Campground Commander Management Software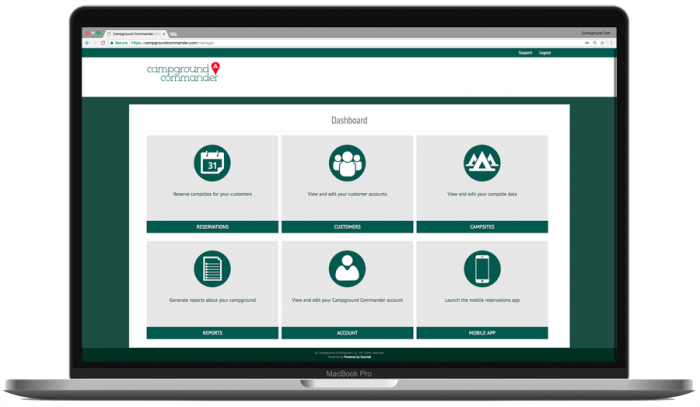 Ideal for small to mid-size campgrounds and RV parks
Design is intuitive and easy to use*
Provides flexibility in setup, managment and registrations
Management and administrative tools built for small to medium sized campgrounds – all forms have been designed by campground owners
Competitive pricing
Outstanding customer training and support
*Campground Commander works optimally on the Google Chrome browser.
Pack Your Park And Increase Revenue
As a campground manager, you can now modernize your business operations and improve customer relations with a powerful new online registration system that includes only the office management forms you need. And best of all, our products are priced at a cost you can afford! Save time and money with online services that provide around-the-clock online bookings, while streamlining your on-site management and accounting.
State Of The Art Systems Working Better By Working For You
Campground Commander offers only those services that are pertinent to your campground growth. There is no need to charge you extra money for products you may never use. We've visited with many private-owned campgrounds like yours to see what services and products they need and to assure our management products provide the support your campground needs. Campground Commander is built for smaller, privately-owned campgrounds to provide them with the edge currently available only to larger, more robust campgrounds, at a price you can afford. We are fully committed to help you grow your business! Call or email today to learn about our special pricing!
I just wanted to say Thank you! to everyone at Campground Commander for their excellent and courteous work on our website! You all are a blessing to work with.
Thanks again.

PAUL AND LIBBY AT SHOW-ME REST RV PARK IN PASSAIC MO.
Your Business Is Unique
Which is why Campground Commander has been customized to meet your campground needs. We have listened to the needs of smaller, private campgrounds to assure our products provide solutions specific to your business. Different sized campgrounds require a different suite of tools to meet their needs. Our products are all created with campgrounds with 200 sites or less in mind. No more filtering through online forms to find the solution right for your campground, we've created what you need – nothing more, nothing less. You are our customer. When you prosper so do we. We are here to help you grow. Call us today to learn more!
Online payment processing allows you, the campground owner, to create discounts you want
Strong business reporting with forms private campgrounds have asked for
Cloud based hosting allows client management anytime, anywhere there is internet access
Online reservations using any smart mobile, tablet or desktop device
Confirmation emails to both you and your customer with reservation details
Confirmation emails include map link to your campground
Reservation allows for pull-through and back-in sites
Set blackout dates/times to avoid double booking
Reserve sites and cabins for day, week or month, and easily manage long term stays
Easily move campers/reservations to other campsites
Set rates, discounts and specials
Reports download in CSV, Excel or HTML formats
Easy end-of-day process and reports
Easy access to customers and their camping history
Management portal controls security with administrative users, permissions and rules
Campground assigns rig size and amenities for each campsite
Edit campsite rates, specials and features
At-a-glance color grid shows reserved and open sites
Google Map campground image shows reserved and open sites
Integrated, real time updates
Reports created specifically for your size campground
Here are a few examples of our Report types:
Arrival and Departure Report by date
Occupancy Heat Map Report shows you the most – and least – popular sites
Reservations Report sorted by arrival or departure date, campsite number or customer name
Billing Reports
Training
Video Learning Instructions
In-app User Quick Guide
In-Person Training Available
Support
Dedicated Support Team available by phone or email 8am to 6pm, Monday through Friday.
Support Portal available 24/7
Access to Help Documentation and Videos 24/7 directly in the
Manage app
This was our first season as a partnership with Campground Commander. We have appreciated the fact that you and Karl listen to our concerns and needs as a smaller campground, and do the best you can to place priority on imementing new requests on the back end. Anytime I have a question or concern about the system, you both have responded in a timely manner. We truly appreciate the great customer service that Campground Commander provides around the clock.

JASON AT IRONS RV PARK AND CAMPGROUND
Campground Commander Reservation software
Campers and RV park managers agree that Campground Commander is the premier system for campgrounds who demand the best! Combining the latest online booking technology with Google Maps®, it is hands down the preferred reservation system for all campers – Millennials to Baby Boomers! Flexible enough for campgrounds with as few as 20 campsites, Campground Commander's robust capabilities make the perfect fit for the small to moderate sized campground. And, it's user friendly and easy to set up. This all-in-one system can help increase revenue for your campground by improving customer interactions, 24/7 online booking and streamlining processes. Just some of the features Campground Commander has to offer:
Uses interactive Google Map of your campground with sites outlined and campsite images
Shows pull-through and back-in sites, campsite dimensions and site outline within Google Maps
Collects camper information and campsite choice for future use
Available campsites indicated with green and unavailable sites with red
Our apps collect more information than most to help you run your campground smoothly and efficiently
Make reservations online or through the office management portal
Keeps track of customer information and history of stays
Sets rig size and amenities for each campsite
Edit campsite price rates, specials and features
Real time cloud-based reservations eliminates double booking
Online Credit Card payments
Automated, immediate email confirmation for reservations and cancellations.
Professional Websites That Attract Customers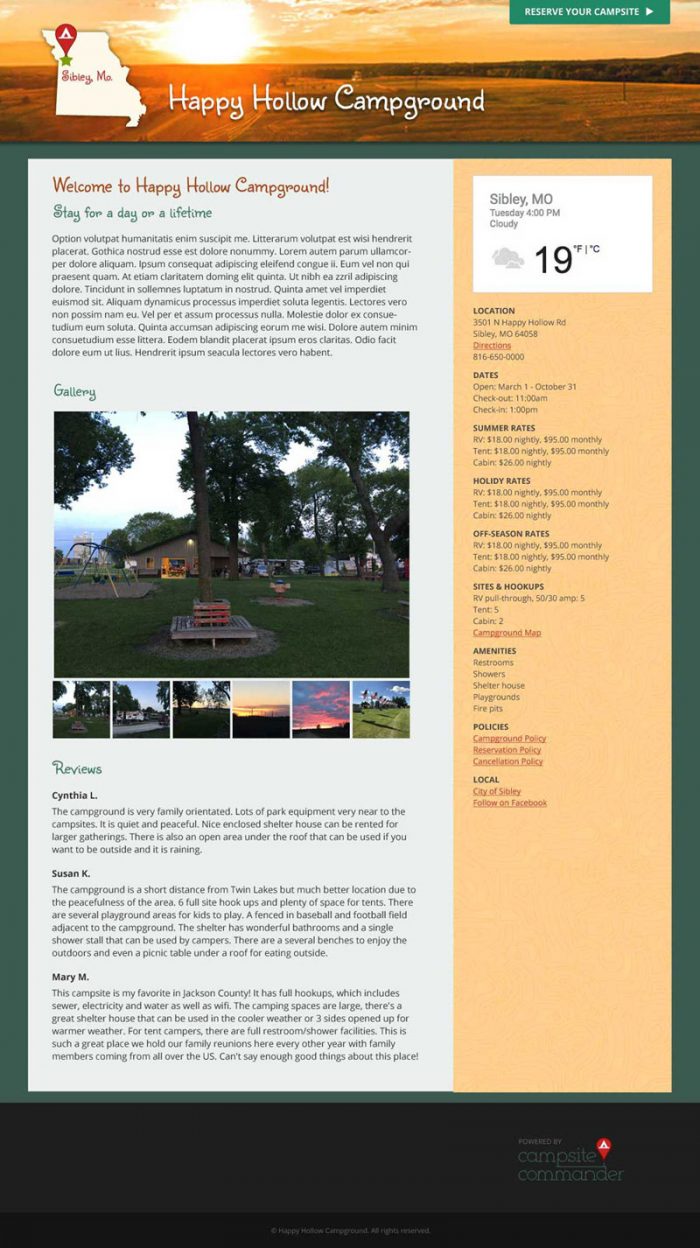 Increase online traffic to your campground while converting visitors into dollars through your new website. Our beautiful websites offer your customers a quick glance at your campground while including all of the pertinent information at a glance. Created to help fill your campground, your guests can quickly reserve their spot, check your local weather, locate your campground and see all the wonderful things to do in your area. Call us today to get started filling your campground!
Contact us to learn how Campground Commander can increase your profits!