Products
Campground Commander Management Software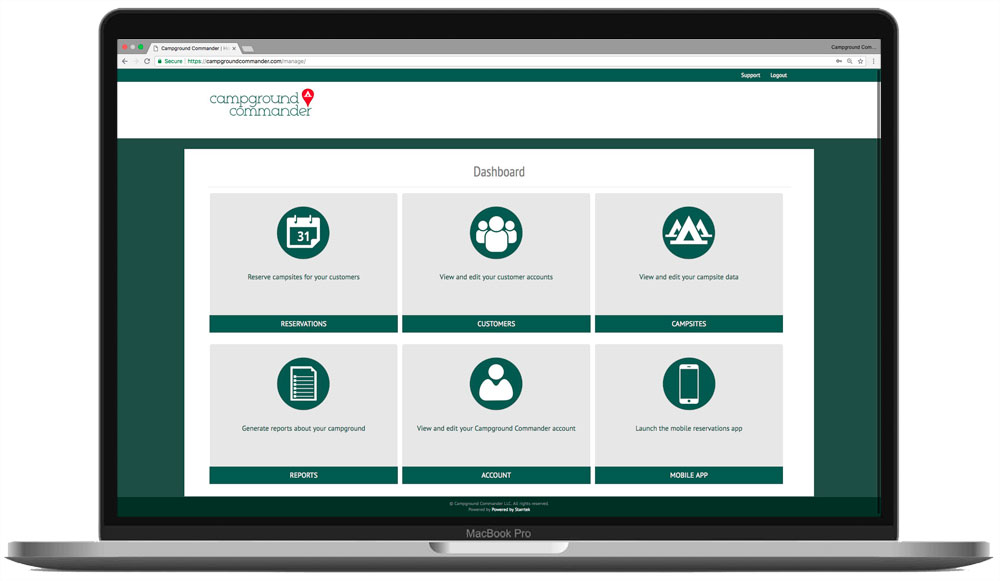 Pack Your Park And Increase Revenue
As a Campground Manager, you can now modernize your business operations and improve customer relations with a powerful new online registration system that includes only the office management forms you need. And best of all, our products are priced at a cost you can afford! Save time and money with online services that provide around-the-clock online bookings, while streamlining your on-site management and accounting.
State Of The Art Systems Working Better By Working For You
Campground Commander offers only those services that are pertinent to your campground growth. There is no need to charge you extra money for products you may never use. We've visited with many private-owned campgrounds like yours to see what services and products they need and to assure our management products provide the support your campground needs. Campground Commander is built for smaller, private-ownded campgrounds to provide them with the edge currently available only to larger, more robust campgrounds, at a price you can afford. We are fully committed to help you grow your business! Although we are constantly improving our products, the following are a few of the features you won't want to miss out on. Call or email today to learn about our special pricing!
Real-time, 24/7 online registration and reservation capabilities

Online payment processing that allows you, the campground owner, to create discounts you want

Strong business reporting with forms private campgrounds have asked for
Cloud based hosting allows client management anytime, anywhere there is internet access
Online bookings using your mobile device
Outstanding customer training and support
Your Business Is Unique
Which is why Campground Commander has been customized to meet your campground needs. We have listened to the needs of smaller, private campgrounds to assure our products provide solutions specific to your business. Different size campgrounds require a different suite of tools to meet their needs. Our products are all created with campgrounds of 200 sites or less in mind. No more filtering through online forms to find the solution right for your campground, we've created what you need, nothing more, nothing less. You are our customer, when you prosper so do we. We are here to help you grow. Call us today to learn more!
Integrated, Real Time Updates
Our robust system provides accurate, real time updates and recalculation of reservations as changes are made. And once a reservation is confirmed by your customer an automatic confirmation is sent via email to both the client and your campground. No more wasting time writing and sending out email confirmations, it's done for you. If you have a drive-in customer walk into your office - no problem. Simply log into the app and add them in. The system updates site availability automatically. Once you have registered your client, the system updates to assure sites aren't double booked. It's that easy!
Tracking
Our real time updated Customers Module provides you with a list of all customers in the system. It can be filtered by various criteria, show any balance due and the last date they stayed at the campground.
Logging into the Management Portal provides management tools utilizing filters to search using criteria specific to your needs. In-office registration uses the same process that is built into the mobile app. Looking for information on a specific campsite? Clicking on a campsite provides captured information about that site along with a calendar of booked days for that campsite.
Call today to learn more about all of the features and our special LOW pricing!
Campground Commander Reservation Software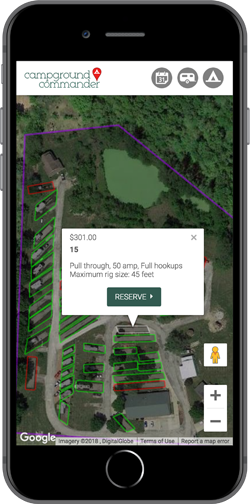 Campers and RV park managers agree that Campground Commander is the premier system for campgrounds who demand the best! Combining the latest online booking technology with Google Maps®, it is hands down, the preferred reservation system for all campers, Millennials to Baby Boomers! Flexible enough for campgrounds with as few as 20 campsites, Campground Commander's robust capabilities make the perfect fit for the small to moderate size campground. And, it is user friendly and easy to set up. This all in one system can help increase revenue for your campground by improving customer interactions, 24/7 online booking and streamlining processes. Just some of the features Campground Commander has to offer:
Customizable so it integrates onto most websites.
Management reporting integrates with Quickbooks or most bookkeeping programs.
Easy to learn intuitive reservation process.
24/7 access allows your clients to make online reservations anytime day or night.
User interface is built around what today's campers want and are asking for, using today's modern methods and tools.
Campground maps are interactive with real time visuals through integration with Google Maps® to allow campers to see the great features of your campground.
Campsites highlight green and red to show which sites are available. Campers check amenities they want and campsites with those amenities stay green while campsites without turn red. Once a site is booked, it turns red indicating it is no longer available.
System is easy enough to be used by the older generation but savvy enough to be a favorite of the new, younger generation of campers.
Provides an intuitive interface that is able to convey more pertinent information in a simpler manner to the customer.
Campground management can be accessed from anywhere, on any device, because Campground Commander is cloud based.
Online monthly backups and storing of databases on the cloud prevent loss of records and provides access to your data from anywhere with a reliable internet connection.
Recalculates reservation as changes are made.
Provides automatic confirmation of site reservation via email to both client and campground.
Advanced pricing capabilities to boost revenue through the ability to adjust prices according to peak times or length of stay.
State of the art training and support options.
Payments are made directly through the reservation system at the time the reservation is made.
Provides daily Sales and Financial Reports.
Includes Booking Restrictions that include your policies and your processes.
Great Websites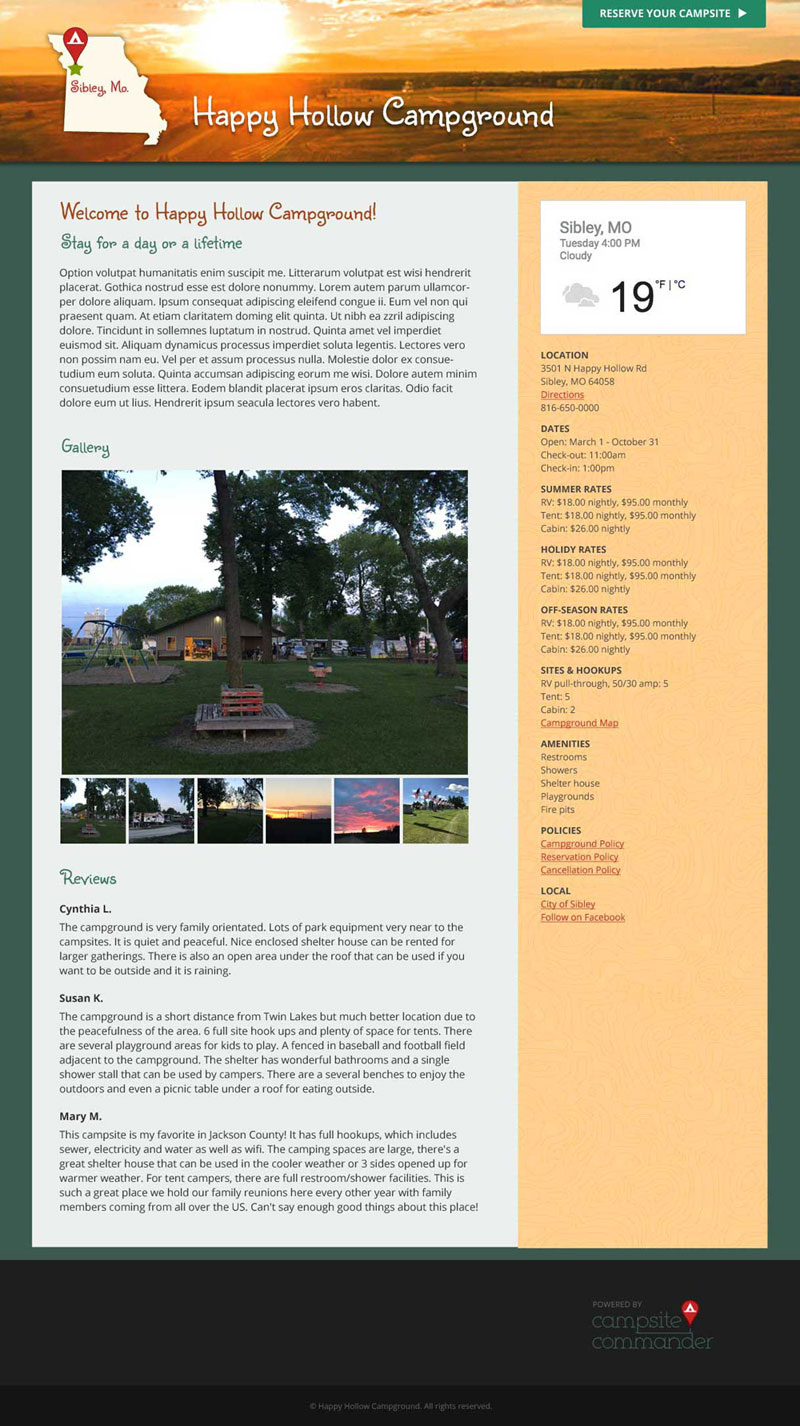 Increase online traffic to your campground while converting visitors into dollars through your new website. Campground Commander offers up-to-date websites designed by our team of experts to help you grow your business. Offering a beautifully designed site to showcase your campground, this special also includes information about your campground, contact information, a gallery with up to 8 of your favorite campground pictures and the local weather. And for an additional fee (see below), the Campground Commander Reservations app can be set onto your new website. Don't let your customers take their money down the road to other campgrounds who have updated websites with online reservation systems! Purchase yours today!